Os Slander são uma banda de hardcore/punk de Veneza, Itália, a caminho da Península Ibérica para uma mini-tour ao lado dos portuenses Shitmouth. Antes de actuarem em Vigo, Porto, Caldas da Rainha e Lisboa trocámos algumas palavras com Samall Ali, vocalista dos venezianos, sobre a cena de hardcore em Itália, a cultura DIY e os dias da internet. E honestamente falando deu-nos uma resposta curiosa sobre o que pensa fazer em Portugal.
Datas da mini-tour Slander e Shitmouth
01.04 – ES, Vigo, La Fábrica de Chocolate c/ Take Offense, Reality Slap
02.04 – PT, Porto, Cave 45 c/ Estado de Sítio, Discórdia
03.04 – PT, Caldas da Rainha, Stronghold c/ BAD!, Chaos A.D.
04.04 – PT, Lisboa, Disgraça c/ Not Enough
Ruído Sonoro: Comecemos pelo início. Como é que se formaram? Porquê Slander para o nome de uma banda?
Slander: Slander surgiram no final de 2013. Três de nós tínhamos um local de ensaio para bandas e para uma radio na nossa cidade. Todos os dias lá estávamos a fazer coisas aborrecidas e a jogar basquetebol, matraquilhos ou videojogos enquanto as outras bandas praticavam. Após um par de anos sentimos a necessidade de nos juntarmos para tocar uns riffs merdosos. Tudo soava muito mal e dado que eu estava a tentar escrever tudo e sou mesmo paranóico, após um mês ou algo do género decidimos procurar por um guitarrista mais confiante do que eu na escrita. Conhecemos o Kafka, que na verdade é de Roma mas estuda em Veneza. Ao início ele não parecia estar muito virado para o assunto, mas depois de um mês a chateá-lo começámos uma banda todos juntos! Soa perto e ao mesmo tempo tão longe.
RS: Ainda que Portugal já tenha recebido várias bandas de hardcore nos anos recentes, ainda não ouvimos falar muito da cena em Itália. Existe algo que estejamos a perder e não sabemos?
Slander: Sei que a Itália não tem a melhor reputação, mas acho que há montes de coisas boas a acontecer aqui. Sei que as bandas grandes na maioria das vezes chegam através de agências e provavelmente não conseguem trabalhar sempre bem para elas. Geralmente os concertos maiores são demasiado caros e nem sequer têm bandas locais para suporte e vejo isso como algo mau porque acredito que a comunidade do hardcore está muito relacionada com as cenas locais. Se não deres a hipótese de bandas locais tocarem  com as suas bandas "favoritas", então eles não se vão sentir parte da sua cena. Na verdade acho que o DIY tem mais a oferecer do que os concertos grandes! Estamos a preparar um festival chamado Venice Hardcore Fest, desde há quatro anos, com dois palcos, mais de 25 bandas, rampas de skate, áreas para ilustradores e muitas coisas boas, e no ano passado estiveram lá cerca de 2000 pessoas, o que acho que é um bom objectivo para uma crew DIY. Somos mais de 60, dos 16 aos 45 anos, a fazer isto todos juntos dos miúdos para os miúdos. Nos anos que passaram conseguimos trazer mais de 200 bandas de todo o mundo e lançar algumas boas bandas da nossa zona que estão em digressão durante o ano, a fazer bons contactos e isso. Devias ouvir Hobos, Discomfort e Danny Trejo para teres a certeza que não estou inventar, ahah!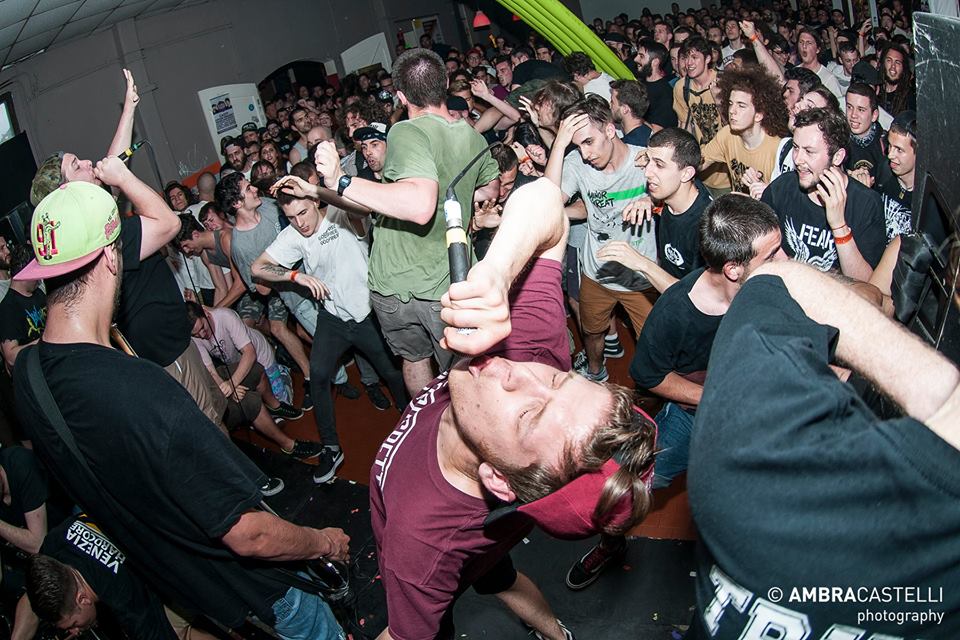 RS: A cultura DIY ganhou novos contornos com a internet? É mais fácil partilhar a música hoje em dia em vez de copiar cassetes para amigos e outras bandas?
Slander: Acho que hoje em dia decorre outra parte do jogo. Às vezes sinto-me desnorteado quando tenho de postar algo, e a pensar "Porquê? Simplesmente apareçam nos concertos, oiçam e vejam a banda por vocês", mas sim, mudou um pouco, mas acho que todos deveriam saber de onde as coisas vêm. O que dizes nos concertos ou o que escreves nas músicas continuam a ser mais importantes! Costumávamos postar todos os dias na nossa página de Facebook, mas agora acho inútil. Nós demos 84 concertos no ano passado e acho que devo focar os meus sentimentos sobre as bandas em coisas que eu tenha vivido ou experiências. Então às vezes publico posters, às vezes música, mas acho que a melhor forma de partilhar música é tocando ao vivo! Com o nosso primeiro 7" The Rush nós próprios gravámos 1000 CDs e com a ajuda da Powertrip Records mais 1000 vinis e 100 cassetes. E sabes que todos nós adoramos cópias físicas, então torna-se uma necessidade e nada é melhor do que ter o teu LP da banda que gostas para partilhar a tua música.
RS: Na "Scares and Ashes" dizem que «feedback is trap». Sentes que a crítica gratuita nas redes sociais pode prejudicar?
Slander: Acho que isso é o pior de tudo. Haters gonna hate.
RS: Na "The Rush" parece que querem aproveitar o dia-a-dia. Acreditas que é importante,  acima de tudo, fazer aquilo que se gosta?
Slander: Acho que esse é o foco de toda a banda. Começámos há dois anos e ninguém esperava que com as nossas músicas acabaríamos por conseguir tocar fora do país. Isto é mesmo altamente e estamos a tentar viver o sonho o mais possível já que provavelmente não vamos conseguir fazer isto para sempre. Quero dizer, adoraríamos fazê-lo mas somos uma banda de hardcore, claro que temos de pensar na vida um dia de cada vez.
RS: Já algum de vocês esteve em Portugal antes? O que esperas destes três concertos?
Slander: Eu já estive com a minha outra banda. Foi muito bom. Espero que seja igual com os Slander. No Porto vou comprar drogas, nas Caldas uns bolos em forma de pila e em Lisboa provavelmente o meu caixão. Caralho!
Entrevista: Nuno Bernardo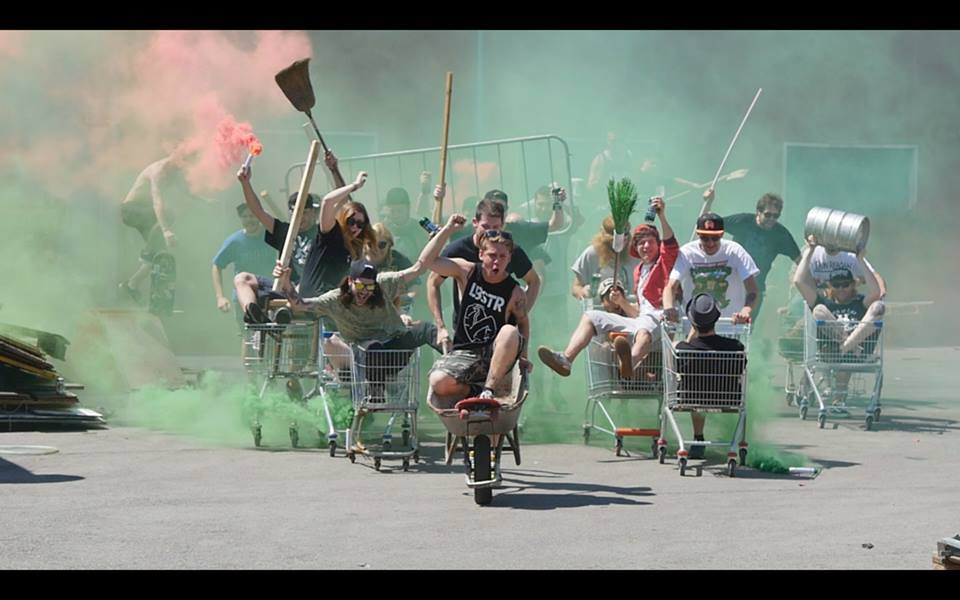 Slander is a hardcore/punk band from Venice, Italy, currently heading to Portugal and Spain for a mini-tour sharing all tour dates with Shitmouth from Porto. Before taking Vigo, Porto, Caldas da Rainha and Lisbon together we at Ruído Sonoro exchanged some words with Samall Ali, the vox of the Venecian guys, about the Italian hardcore scene, DIY culture and the online days. And we got a very curious answer about what they are about to do in Portugal, honestly.
Slander and Shitmouth Iberian tour dates
01.04 – ES, Vigo, La Fábrica de Chocolate w/ Take Offense, Reality Slap
02.04 – PT, Porto, Cave 45 w/ Estado de Sítio, Discórdia
03.04 – PT, Caldas da Rainha, Stronghold w/ BAD!, Chaos A.D.
04.04 – PT, Lisbon, Disgraça w/ Not Enough
Ruído Sonoro: Let's start from the beginning. How did you form? Why Slander for a band name?
Slander: Slander has been formed on late 2013. Three of us were running a local rehearsal for bands and a radio on streaming in our city. Every day we were there doing boring things and playing basketball or soccer table or video games while the other bands were practicing. After a couple of years we have felt the need to go together into the rehearsal and playing some shitty riffs. Everything was sounding very bad and since I was trying to write everything and I am really paranoid, after a month or so we have decided to ask around for a guitar player more confidential than me on the songwriting. We've met Kafka, that actually is coming from Rome but he is studying in Venice; at the beginning he wasn't really keen with that but after a month stressing him we have started the band all together! Sounds near and yet so far.
RS: Although Portugal has been scheduled for several hardcore bands in the past few years, we still haven't heard much about the Italian scene. Is there something we are really missing?
Slander: I know Italy hasn't got the best reputation, but I think there loads of good things going on. I know that the bigger bands most of the time are coming through agencies and probably they are not able to work for them in a good way everytime. Most of the time the bigger shows are overpriced and there are not even local bands supporting the bands on tour and that's such a bad thing to me because I think that the hardcore community is very related to its local scene. If you don't give the chance to local bands to play with their "favorite" bands then they will not feel part of their scene. Actually I think the DIY has got more to offer than the big shows! We are putting up a festival, called Venice Hardcore Fest, since 4 years ago, with 2 stages, more than 25 bands, skate ramp, illustration area and a lot of good stuff and last year there were 2000 people attending the show which I think is a good goal for a DIY Crew. We are more than 60 people, from 16 years old to 45, doing this thing all together for the kids by the kids. In the past years we were able to bring more 200 bands from all over the world and actually also releasing some good bands from our area that are touring during the year, making good connections and stuff. You should check out Hobos, Discomfort and Danny Trejo to be sure I am not faking ahah!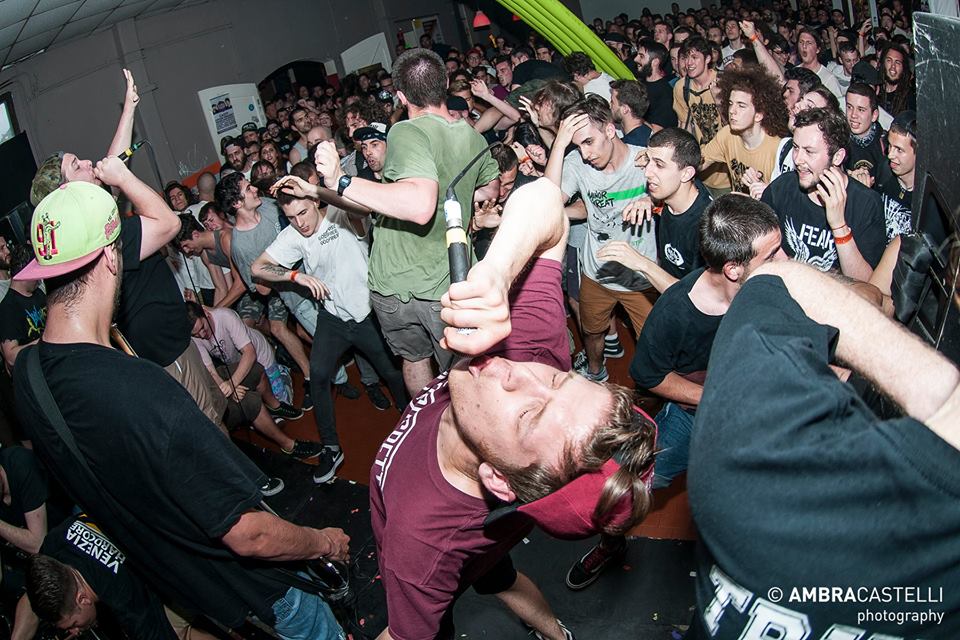 RS: Did DIY culture get a new meaning with the online presence? Is it easier to share music these days rather than copying cassettes for friends and other bands?
Slander: I think nowadays is just another part of the game, sometimes I am feeling lost when I have to post something; I am just thinking "Why? Just come to the show and see and listen to the band by yourself", but yeah it has changed a bit, but I think that everyone should know where this shit is coming from. The contents that you are saying at shows or writing in the songs are still the most important thing! We used to post everyday on our fb page, but now I think is just useless; we played 84 shows last year and I think that I wanna focus my feelings of the bands on the things I can really live and made experience from. So sometime I post posters, sometime music, but I think the easiest thing to share your music is just playing it live! With our first 7" "The Rush" we have printed by ourselves 1000 cds and with the help of Powertrip Records 1000 vinyls and 100 k7. You know all of us are lovers of the physical copies so it's a need and there's nothing better of having your LP of the band you love to share your music!
RS: In "Scars and Ashes" you claim that «feedback is trap». Do you feel that free criticism in social networks can be harmful?
Slander: I think this is just the worst part of the whole thing. Haters gonna hate.
RS: In "The Rush" it feels like you are seizing the day. Do you believe it is important to do what you like no matter what?
Slander: I think is the focus of the whole band. We have started the band around 2 years ago and no one expected that with our songs we could make connection that would take us out of the country. This is just fucking amazing and we are trying to live the dream as much as we can since probably we will not do this for ever! I mean, we would love to but we are an hardcore band so come on we think about our life day by day.
RS: Has anyone of you been in Portugal before? What are you expecting from these three concerts?
Slander: I have been with my other band. It was a really good time. I hope that is going to be the same for Slander. In Porto I will buy the drugs, in Caldas some cakes looking like dicks and in Lisbon probably my grave. Caralho!
Interview: Nuno Bernardo