A Chelsea Wolfe está a chegar a Portugal pela primeira vez. Ao lado da sua banda, vai trazer ao Porto a sua assombrosa performance vocal e o seu novo disco – "Pain Is Beauty". Trocámos algumas palavras sobre o Amplifest.
Ruido Sonoro: A tua estreia em Portugal irá acontecer no Amplifest. Como te sentes em relação a isso?
Chelsea Wolfe: Estou muito entusiasmada – sempre ouvi dizer quão bonito o Porto é.
RS: Para além dos teus companheiros de digressão, Russian Circles, que outros nomes gostarias de destacar do alinhamento anunciado?
CW: Ansiosa por encontrar os nossos amigos Deafheaven, claro, e vai ser bom poder ver Body/Head ao vivo.
RS: Nós analisámos e adorámos "Pain Is Beauty". Tem sido dito que este disco se foca tanto em trauma como na tranquilidade, assim como em algumas duras lições tiradas do amor. Estão esses temas ligados a ti ou à tua experiência de vida?
CW: É claro que a maneira como escrevo decorre da minha própria experiência e perspectiva de vida, mas não gosto de escrever sobre a minha vida em particular. Costumo encontrar assuntos para escrever, coisas para explorar.
RS: Parece que o "1984" de George Orwell foi uma inspiração para ti, mas o o final deixou-te desiludida. A faixa 'The Warden' é na verdade um fim alternativo para o mesmo. Existe algum outro livro que gostasses de re-escrever?
CW: Neste momento não me consigo lembrar de nenhum, mas os livros são muito influentes em mim. O escritor D.H. Lawrence inspirou algumas ideias para este álbum, e no passado tirei coisas de Ayn Rand e Celine.
RS: A evolução do teu som é notável. Em "Pain Is Beauty" mantiveste aquela atmosfera assombrosa, mas com um sentimento mais electrónico e bonito. Conta-nos mais sobre as fronteiras e as influências do teu som.
CW: O meu colega de banda Ben Chisholm e eu começámos a escrever essas músicas electrónicas há cerca de três anos atrás, antes mesmo do álbum acústico, e originalmente pensei que se viesse a tornar um sideproject, mas então percebi que não queria colocar limites no meu próprio projecto. Por isso, quando chegou a hora de fazer um novo álbum, eu sabia que queria incorporar e re-aproximar algumas dessas faixas electrónicas para o álbum. Eu gosto de experimentar novos sons e formas de utilizar a minha voz e os instrumentos.
RS: De volta aos Russian Circles e outras bandas – como te sentes em relação ao resultado da tua colaboração numa faixa do novo álbum deles? E como é que o Mark Lanegan acabou por fazer uma versão da tua 'Flatlands' recentemente?
CW: Eu adoro a música de Russian Circles, especialmente ao vivo. Estava realmente contente por poder colaborar com eles e surgiu com naturalidade. Acontece que as coisas que escrevo se encaixam bem com o tema e com o título do novo álbum deles, "Memorial". O Mark Lanegan encontrou 'Flatlands' por conta própria, mas sinto-me honrada que ele tenha escolhido a minha música para uma versão no seu álbum. Sou fã da sua voz!
RS: Talvez sempre quiseste trabalhar com outros artistas. Existe alguém com que sonhes trabalhar?
CW: O Jack White é fantástico, provavelmente divertido de trabalhar com ele porque posso dizer que ele leva a música muito a sério como eu.
RS: Para os próximos espectáculos terás de apresentar o teu novo disco, sem esquecer outras músicas do passado. Já tens uma base sólida para construir um alinhamento ou apoias o elemento-surpresa neste assunto?
CW: Temos um vasto grupo de músicas para escolher, novas e velhas, e tentamos variar um pouco, mas existe uma base sólida de músicas em que me sinto mais confortável em tocar à medida que as toco mais vezes.
RS: Gostarias de deixar algumas palavras para o teu público do Amplifest e para os teus fãs em Portugal?
CW: Vemos-nos em breve!
Entrevista por Nuno Bernardo.
Fotografias de Johanna Torell.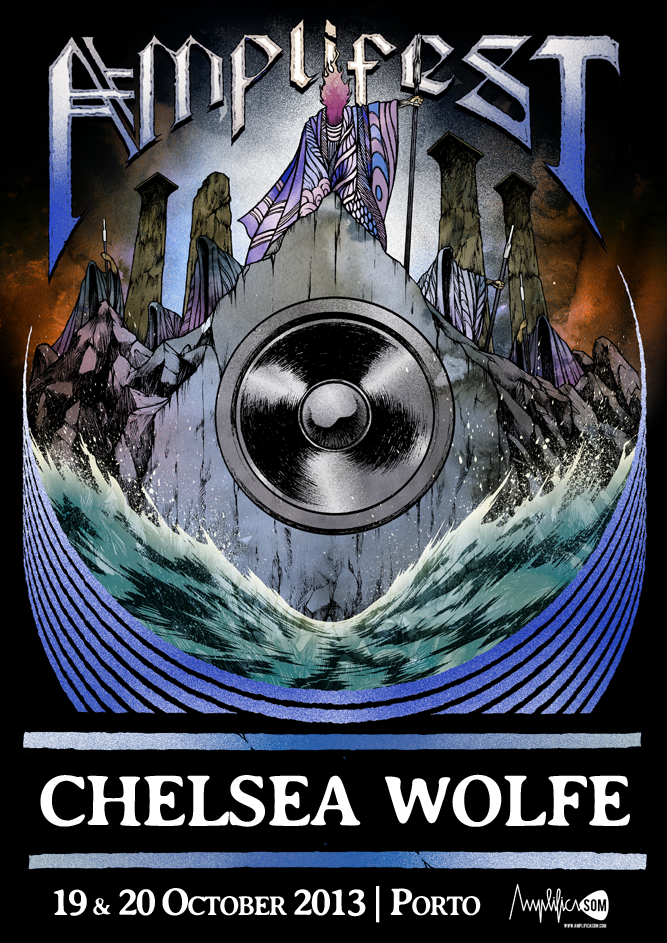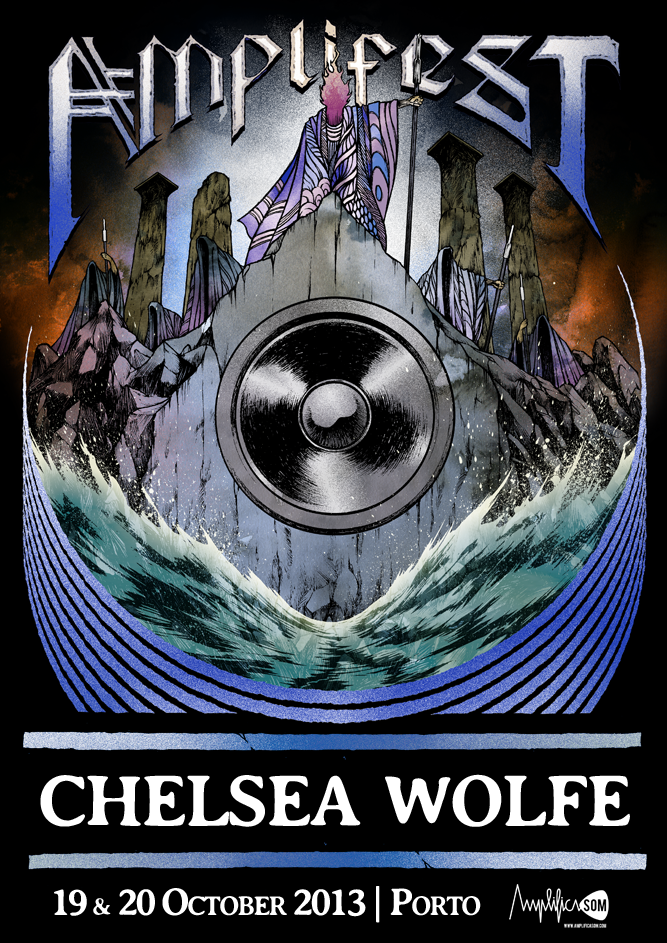 Chelsea Wolfe is arriving Portugal for the very first time. Alongside her band, she will bring to Porto her haunting vocal performances and her newest record – "Pain Is Beauty". We exchanged a few words about Amplifest.
Ruido Sonoro: Your debut in Portugal will happen at Amplifest. How do you feel about it?
Chelsea Wolfe: I'm very excited – I've always heard what a beautiful place Porto is.
RS: Besides your tour mates Russian Circles, which names would you like to point out from the announced lineup?
CW: Looking forward to seeing our friends Deafheaven of course, and it will be cool to see Body/Head live.
RS: We reviewed and loved "Pain Is Beauty". It has been stated that this record focuses on both trauma and tranquility, and also about some harsh lessons taken from love. Are those subjects personally connected to you or to your experience in life?
CW: Of course the way that I write stems from my own personal experience and outlook on life, but I don't particularly like to write about my own life. I tend to find subjects to write about, things to explore.
RS: It seems George Orwell's "1984" was quite an inspiration for you, but you felt disappointed with its ending. The song 'The Warden' is actually an alternative ending to it. Is there any other book you would like to re-write if possible?
CW: At the moment I can't think of any, but books are very influential on me. The writer D.H. Lawrence inspired some of the ideas on this album, and in the past I've drawn from Ayn Rand and Celine.
RS: Your sound evolution is noticeable. In "Pain Is Beauty" you kept that haunting atmosphere, yet with a more electronic and beautiful feeling. Tell us more about your sound boundaries and influences.
CW: My bandmate Ben Chisholm and I started writing these electronic songs about three years ago, even before the acoustic album, and originally I thought it would become a side project but then I realized I didn't want to place limits on my project, so when it came time to do a new album I knew I wanted to incorporate and re-approach some of those electronic songs for the album. I like to experiment with new sounds and ways of using my voice and the instruments.
RS: Back to Russian Circles and other bands – how do you feel about the result of your collaboration for a song of their upcoming record? And how did Mark Lanegan end up cover your song 'Flatlands' recently?
CW: I love Russian Circles' music, especially live. I was really happy to collaborate with them and it came very naturally. It happened that the things I wrote about fit really well with the theme and title of their album, "Memorial." Mark Lanegan found Flatlands on his own but I am very honored that he chose my song to cover on his album. I am a fan of his voice!
RS: Perhaps you've always wanted to make music with some other artists. Is there someone you dream of working with?
CW: Jack White is amazing, probably fun to work with because I can tell he takes music very seriously like I do.
RS: For the next shows you'll have to present your new record, without forgetting some songs from the past. Do you already have a solid base to draw a setlist or do you support the element of surprise in this matter?
CW: We have a large group of songs to choose from, new and old, and try to switch it up a little bit, but there is a solid base because I find I become more comfortable with the songs the more I play them.
RS: Would you like to leave some words for your audience at Amplifest and for your fans in Portugal?
CW: See you soon!
Interview by Nuno Bernardo.
Photos from Johanna Torell.