Os Downfall Of Gaia vão-se estrear em Portugal ao tocar na próxima edição do Amplifest, nos dias 19 e 20 de Outubro de 2013. A banda é alemã, mas foi a partir dos EUA e a meio da sua digressão por lá que Dominik Gonçalves dos Reis, guitarra e voz do conjunto, nos respondeu a algumas perguntas.
Ruído Sonoro: Como se sentem por tocar pela primeira vez em Portugal? O facto de ser no Amplifest torna-se ainda mais especial?
Dominik Gonçalves dos Reis: É espectacular tocar finalmente em Portugal! Já estive aí algumas vezes porque metade da minha família é de Portugal, mas como banda nunca tivemos um concerto por aí. O alinhamento do Amplifest é um dos melhores que já vi em muito tempo. Portanto sim, é claro, a presença no Amplifest torna a nossa estreia em Portugal ainda mais especial e estamos contentes por fazer parte dele.
RS: Tendo sido formados em 2008, pode-se afirmar que ainda são uma banda jovem. Quanto mudou o vosso som desde então?
DRG: Eu diria que desenvolvemos de um modo natural. Quando começámos soávamos muito mais crust, muito mais downbeat. Demorou-nos algum tempo até encontrarmos o nosso próprio som. Acho que crescemos de lançamento para lançamento. Nós ouvimos todos os tipos de música e ao longo dos anos há mais e mais influências a fazer parte dos nossos registos. Não queremos ficar presos num género específico e penso que é algo que se verifica quando se ouve a nossa música. Portanto hoje em dia existe um largo alcance de influências para os nossos trabalhos – do doom ao sludge, ao black metal, a qualquer coisa.
RS: Depois do grande "Suffocating In The Swarm Of Cranes", porque é que lançaram uma compilação homónima a conter "Epos" e aquelas duas faixas que lançaram no split com In The Hearts Of Emperors?
DRG: Foi uma ideia das nossas editoras antigas. Nós nunca tínhamos lançado essas músicas em versão CD, apenas em vinil. Depois do lançamento do "Suffocating In The Swarm Of Cranes", muitas pessoas pediram também os nossos lançamentos anteriores em CD. Portanto surgiu essa ideia. Estava na altura certa. Portanto dissemos – sim, vamos fazê-lo!
RS: Como tem corrido a digressão nos EUA? Não é a primeira vez que deixam a Europa para o fazer, portanto tem sido diferente do que foi da última vez?
DRG: Estar em digressão nos EUA é difícil e completamente diferente do que é na Europa. Grande parte das vezes damos o nosso concerto e logo a seguir temos de seguir e estamos de novo por nossa conta. Grande parte das vezes sem sítio para dormir, comida, etc, é nos dado. Mas tudo bem, já sabíamos isto antes. A nossa última vez nos EUA não foi tão longa e muitas vezes tocámos em pequenas salas ao estilo DYI. Desta vez foi uma corrida de quatro semanas em Agosto/Setembro, atravessando os Estados de este a oeste (e vice-versa) pelo deserto num dos meses mais quentes do ano. Menos dormidas, muita viagem e descanso na carrinha. Não diria que tenha sido muito diferente. É apenas maior e mais exaustiva. Tivemos alguns altos e baixos nesta digressão tal como tivemos da outra vez. Ainda somos algo pequenos nos EUA, portanto nunca sabemos o que vai acontecer em cada noite. No final passámos um bom tempo e estamos muito contentes por ter conhecido os companheiros de digressão Black Table, de Nova Iorque. Partilhámos a carrinha por quatro semanas.
RS: Vocês têm andado em digressão o ano inteiro. Como irá ser em 2014? Vão parar um pouco para escrever um novo trabalho ou apenas descansar?
DRG: 2013 foi um ano muito intenso para nós. Tocámos em muitos concertos e digressões. Estes concertos na próxima digressão europeia serão os nossos últimos de 2013. Logo a seguir havemos de nos encontrar e começar a escrever um novo trabalho. Nós precisamos definitivamente de sair da estrada para o fazer. Estamos espalhados pela Alemanha, portanto não é nada fácil ensaiar e escrever novas coisas sempre que queremos, especialmente quando estamos em digressão durante tanto tempo. É por isso que precisamos de uma pequena pausa. Portanto, em resumo: sim, no final de 2013 vamos começar a escrever para um novo trabalho e 2014 será, esperemos, tão activo quanto 2013 foi.
RS: Vocês apresentam uma música negra e uma cinematografia pesada no que diz respeito ao vídeo para 'In The Rivers Bleak'. Gostávamos de saber quais foram as vossas influências para surgirem com este visual e sonoridade.
DRG: Para o vídeo de 'In The Rivers Bleak' nós trabalhámos com John Bradburn e Andy Paton. Dois gajos muito talentosos do Reino Unido! Antes de tudo começar nós trocámos ideias, falámos sobre o significado da música, etc. Logo a seguir eles tomaram conta de todo o aspecto visual e apresentaram-nos a sua própria visão de 'In The Rivers Bleak'. Todos nós estávamos agradados com o vídeo. Na minha opinião, aquelas imagens pretas e brancas combinam perfeitamente com as letras e as harmonias. Portanto os créditos do vídeo vão definitivamente para John Bradburn e Andy Paton.
RS: Temos a certeza que vão estar no vosso melhor no Amplifest. Sabemos que não vão poder ficar para o evento completo, mas ainda assim há algum concerto confirmado que vocês gostariam de ver?
DRG: Sim, infelizmente não vamos poder ficar para o evento todo mas há muitas bandas que gostávamos de ver. Bandas que eu gostaria mesmo muito de ver são Uncle Acid And The Deadbeats, Year Of No Light, Chelsea Wolfe e Russian Circles. Pode ser que alguns deles toquem no mesmo dia que nós!
Entrevista por Nuno Bernardo.
Fotografias de Nadya.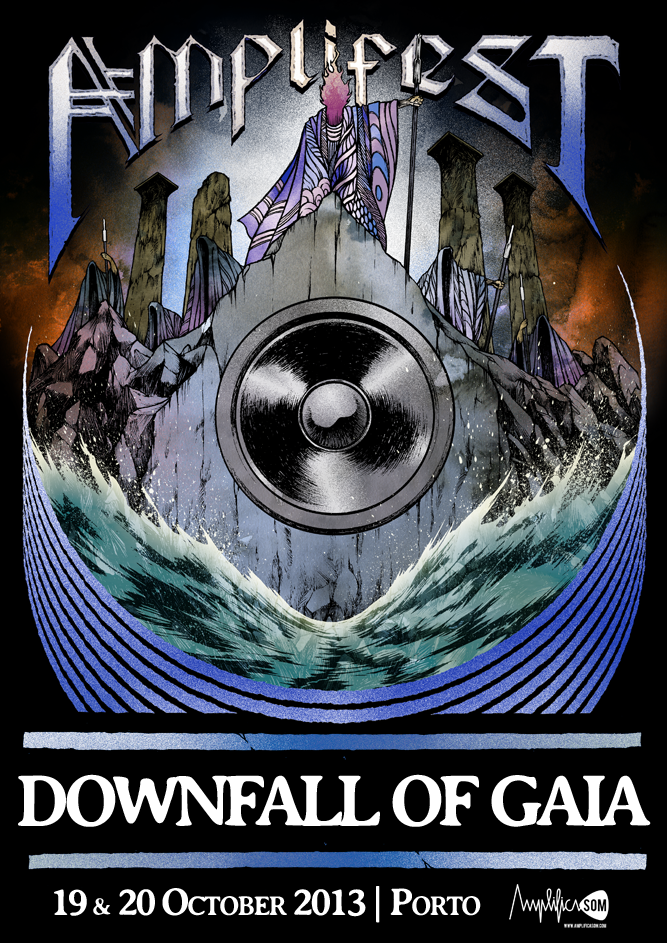 Downfall Of Gaia will debut in Portugal at Amplifest, on the next 19 and 20 October. The band is from Germany, but it was from the U.S. where they are touring that Dominik Goncalves dos Reis (vocals, guitar) answered us some questions.
Ruido Sonoro: How do you feel about playing for the very first time in Portugal? Does Amplifest make it more special?
Dominik Goncalves dos Reis: It's amazing to finally play a show in Portugal! I've been there a few times because half of my family is from Portugal, but as a band we never had a show going on over there. The line up of Amplifest is one of the best I've seen in a long time. So yes of course – the appereance at Amplifest makes our first time in Portugal even more special and we are happy to be a part of it!
RS: Formed in 2008 we can admit you still are a young band. How much your sound changed since then?
DGR: I would say we developed in a natural way. As things started we sounded way more crusty, way more d-beat. It took us a while to find our own sound. I think we grew from release to release. We are listening to all kinds of music and over the years more and more influences became a part of our records. We don't want to be trapped in a specific genre and I think that's what you can hear if you are listening to our records. So nowadays there is a wide range of influences on our records – from doom to sludge to black metal to whatever.
RS: After the great "Suffocating In The Swarm Of Cranes", why did you released a self-titled compilation containing "Epos" and those two tracks from the split with In The Hearts Of Emperors?
DRG: It was an idea from our old labels. We never released those songs as a CD version, only on vinyl. After the release of "Suffocating In The Swarm Of Cranes" a lot of people also asked for our old releases on CD. So they came up with that idea. It was just the right time. So we said – yes, let's do it!
RS: How has been the US tour? It's not the first time you leave Europe to tour there, so has it been different than it was before?
DRG: Touring the States is tough and completely different as touring in Europe. Most of the time you can play your show but right after it you have to leave and you are back on your own. Most of the time no sleeping places, food, etc, is provided. That's ok, we knew this before. Our last trip to the US wasn't that long and most of the time we played small DIY houseshows. This time was a four week run in August/September, crossing the States from east to west (and back) through the desert in one of the hottest months of the year. Less sleep, a lot of driving and sitting in the van. I wouldn't say very much changed. It's just longer and more exhausting. We had some ups and downs on this tour as we also had on our last tour through the US. We are still pretty small in the States, so you never know how things will turn out each night. In the end we had a great time and were pretty happy to get to know our tourbuddies Black Table from New York. We shared the van for four weeks.
RS: You've been touring all the year. How is going to be 2014? Will you stop for a while to write down a new record or just rest?
DRG: 2013 was a pretty intense year for us. We played a lot of shows and tours. Those concerts on our upcoming European tour will be our last live appearances for 2013. Right after we will get together and start writing new songs for a new record. We definitely need time off of the road for doing this. We are all spread over Germany, so it's not that easy to rehearse and write new stuff whenever we want to, especially not when are touring that much. That's why we will take a little time-out. So – to keep it short: yes – in the end of 2013 we will start with the songwriting for a new record and 2014 will hopefully be as active as 2013 was.
RS: You present some dark music and a heavy cinematography concerning the video for 'In The Rivers Bleak'. We would like to know which are your influences to come up with these looks and soundscapes.
DRG: For the video 'In The Rivers Bleak' we worked with John Bradburn and Andy Paton. Two very talented guys from the UK! Before all of it started we exchanged some ideas, talked about the meaning of the song, etc. Right after they took care of all of the visual aspects and presented us their own vision of 'In The Rivers Bleak'. All of us were totally into the video. In my opinion, those black/white pictures matches perfectly with lyrics and harmonies. So the credits for the video definitely goes out to John Bradburn and Andy Paton.
RS: We are sure you'll be at your best here for Amplifest. We know you won't be here for the full event, but still is there any confirmed show you would like to see?
DRG: Yeah, unfortunately we won't be able to stay for the whole event but there are a lot of bands we would like to see. Bands I really would love to watch are Uncle Acid And The Deadbeats, Year Of No Light, Chelsea Wolfe and Russian Circles. Hopefully some of them are playing the same day of the fest as we are!
Interview by Nuno Bernardo.
Photos from Nadya.