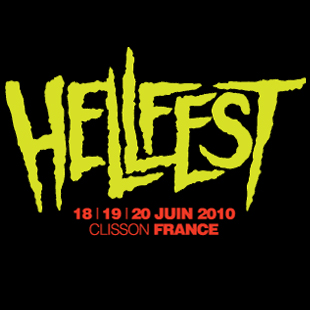 Apesar de nem ser em Portugal, o Hellfest é capaz de ser um dos mais desejados festivais internacionais em terras lusitanas. Os cartazes dos últimos anos têm deixado todos boquiabertos e 2010 parece não ser excepção. Já contando com vários nomes, foi há alguns dias que uma nova fornada de artistas foram confirmadas para este festival a realizar nos dias 18, 19 e 20 de Junho em Clisson, França. Para já, o cartaz é o seguinte:
16, 7 Seconds, Agnostic Front, Arch Enemy, Architects, Asphyx, Atheist, Behemoth, Black Cobra, Bloodbath, Born From Pain, Candlemass, Carnifex, Count Raven, Crowbar, Dark Funeral, Decapitated, Dying Fetus, Earth Crisis, Eluveitie, Ensiferum, Ex Deo, Finntroll, Freak Kitchen, General Surgery, Ghost Brigade, Godflesh, GWAR, Ihsahn, Immortal, Kampfar, Katatonia, Kiss, Knuckledust, Magrudergrind, Monkey 3, My Dying Bride, Necrophagist, Negura Bunget, Obscura, Omega Massif, Overkill, Primal Fear, Raven, Rwake, Sabaton, Saviours, Secrets Of The Moon, Sepultura, Sick Of It All, Skarhead, Solace, Suffocation, Swallow The Sun, Sworn Enemy, Tankard, The Faceless, The Devil's Blood, Twisted Sister, UDO, Ulver, Urgehal, Walls Of Jericho, Weedeater e Wisdom In Chains.
O preço de 3 dias até 31 de Dezembro é de 109€.